Everything about your Havanese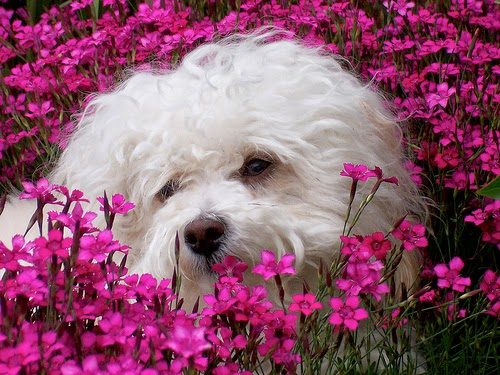 The Havanese dog breed has won many admirers with his long, silky hair, expressive eyes, and cuddly size. Bred as a companion dog to the Cuban aristocracy in the 1800s, he's earned the nickname "Velcro dog" because he sticks so closely to his owner's side. But don't write him off as just a lapdog; the Havanese is trainable and surprisingly energetic, and has excelled in dog sports and canine careers ranging from circus performer to assisting the handicapped.

History
The Havanese is a member of the Bichon family of dogs. The progenitors of the breed are believed to have come from Tenerife. Ship manifests from Tenerife bound for Cuba list dogs as passengers brought aboard, and these dogs were most probably the dog of Tenerife. Some believe the entire Bichon family of dogs can be traced back to the Tenerife dog, while others theorize that the origins are in Malta, citing the writings of Aristotle, and other historical evidence of the early presence of such dogs in Malta. Whatever the actual origins of Bichon dogs, these little dogs soon became devoted companions to the Spanish colonists in Cuba and were highly admired by the nobility.
As part of the Cuban Revolution, upper-class Cubans fled to the United States, but few were able to bring their dogs. When American breeders became interested in this rare and charming dog in the 1970s, the US gene pool was only 11 dogs.
With dedicated breeding, and the acquisition of some new dogs internationally, the Havanese has made a huge comeback and is one of the fastest growing breeds of dogs in the American Kennel Club (AKC).

Breed standards
AKC group: Toy
UKC group: Companion
Average lifespan: 14 – 16 years
Average size: 8 – 13 pounds
Coat appearance: Soft and silky double coat
Coloration: White, black, chocolate, gold, cream, silver and blue
Hypoallergenic: Yes
Other identifiers: Dropped ears; large dark eyes; scissor bite; body is longer than dog's height; long tail; strong legs and neck.
Possible alterations: Longer coat may resemble dreadlocks; some are born with a shorter coat, causing them to be non-hypoallergenic; chocolate-colored dogs may have green or amber eyes.
Comparable Breeds: Lhasa Apso, Papillon
Overview
The Havanese shines his affectionate personality on everyone, including strangers, children, other dogs, and even cats. But his family will get the lion's share of his love; given the choice, he'll stick like glue to his owner's side. The potential downside to all this devotion is that, when left alone, the Havanese can become anxious. This is definitely a housedog, and a Havanese who's left in the backyard — or anywhere away from his family — is not a happy dog.
His Velcro personality isn't so surprising, considering he was bred to keep the wealthy families of his native island of Cuba company. Since then, however, the Havanese has proven that he's good for much more than warming laps. Havanese dogs are quite trainable, and they've worked as therapy and assistance dogs, sniffed out mold and termites, and shown off their clownish antics as performing dogs.
They've also got a surprising amount of energy for their size, and for the family looking to compete, the Havanese will happily tackle such sports as agility, freestyle, obedience, and flyball.
As with many small dogs, it's common for adoring owners to overindulge their Havanese. They'll probably regret it — bad habits, such as eating only people food, can form very quickly. This breed is a sharp con artist, and you may find that your Havanese is training you, rather than the other way around.
In spite of his quirks, or maybe even because of them, the Havanese is a wonderful and versatile pet.
Is this breed right for you?
Sweet and loving, this loyal watchdog makes the perfect companion for singles or families with children. Getting along with other pets, especially other Havanese, the breed is very social and enjoys constant companionship with his family members. Curious, he's likely to check things, and is easily trained. Great for apartment living, he does enjoy playing indoors but will need a good amount of regular exercise. Requiring regular grooming, he does best with a family that can give his coat much-needed attention. With good brushing, he is unlikely to shed. A good watchdog, he'll greet every guest that walks through your door.
The Havanese is a gentle and affectionate breed that thrives on human companionship. Your Havanese will often follow you from room to room throughout the day, and he can get very anxious when left alone.
He's intelligent as well, and will enjoy making you laugh with goofy antics, or simply sitting on your lap watching the world go by.
Temperament is affected by a number of factors, including heredity, training, and socialization. Puppies with nice temperaments are curious and playful, willing to approach people and be held by them. Choose the middle-of-the-road puppy, not the one who's beating up his littermates or the one who's hiding in the corner.
Always meet at least one of the parents — usually the mother is the one who's available — to ensure that they have nice temperaments that you're comfortable with. Meeting siblings or other relatives of the parents is also helpful for evaluating what a puppy will be like when he grows up.
Like every dog, the Havanese needs early socialization — exposure to many different people, sights, sounds, and experiences — when they're young. Socialization helps ensure that your Havanese puppy grows up to be a well-rounded dog.
Enrolling him in a puppy kindergarten class is a great start. Inviting visitors over regularly, and taking him to busy parks, stores that allow dogs, and on leisurely strolls to meet neighbors will also help him polish his social skills.
Havanese are generally healthy and sturdy with relatively few serious health issues. They typically live 14 to 16 years. Havanese organizations, such as the Havanese Club of America, monitor genetic issues to prevent propagation within the breed.
Havanese suffer primarily from luxating patella, liver disease, heart disease, cataracts and retinal dysplasia. Havanese sometimes tear and may develop brown tear stains, especially noticeable on white or light coats.
The Havanese Club of America developed a system to encourage widespread participation of seven recommended tests for eye disease (CERF), congenital deafness (BAER), patella luxation, cardiac diseases, hip dysplasia, hip joint disorder (Legg-Calve-Perthes), and elbow dysplasia. The Canine Health Information Center (CHIC) program promotes testing and reporting of health test results for the Havanese breed. CHIC is a centralized canine health database jointly sponsored by the AKC Canine Health Foundation (CHF) and the Orthopedic Foundation for Animals (OFA). Testing required for a Havanese to receive a CHIC certificate includes OFA BAER, OFA Hips, OFA Patellas, and annual CERF exams. This provides an outstanding research tool for performing searches on individual dogs and also links health testing results of the dog's related pedigree information (parent, offspring, and sibling), when those related dogs have been health tested.
Although the Havanese is a small breed, he has a fair amount of energy to burn. A lengthy walk or an active game of fetch each day will keep him happy.
The Havanese does well in a variety of homes, from apartments to large homes with yards — as long as he's an indoor dog. This breed isn't suited for life in the backyard. He is happiest when he is with his family. Although they're not overly yappy, they do bark at passersby, so if your home has noise restrictions, this may not be the breed for you.
His eagerness to please his owners makes the Havanese fairly easy to train in most cases. Basic obedience, beginning with puppy classes, is recommended. Housetraining, however, can be particularly challenging for a Havanese, so you'll need to be especially patient during this process. You'll get there, but crate training is a must.
Separation anxiety can be a serious concern for the Havanese and his owner. The best way to deal with this problem is to avoid it altogether. Don't leave the dog alone for long periods of time and, when you do leave, put him in a crate with plenty of sturdy toys to keep him occupied.
Though he's small and fuzzy, a Havanese isn't a toy. Like all breeds, he needs to learn good canine manners. Don't spoil him with table scraps or by carrying him all the time he'll get fat or become overly possessive of you.
Because of the cheerful and readily trained nature, they are used for a variety of jobs involving the public, including:
Therapy dogs
Assistance dogs, such as signal dogs for the hearing impaired.
Performing dogs
Mold and termite detection
Tracking
Havanese also compete in a variety of dog sports, such as: dog agility, flyball, musical canine freestyle and obedience training.
The Havanese coat is thick but silky, soft, and light, and it doesn't shed easily. The coat is long and ranges from straight to curly, although wavy is considered the ideal for the show ring. It comes in white, black, black and tan, sable, gray, and a myriad of other colors and markings.
Many owners clip the Havanese coat short to make it easier to care for. But if you show your Havanese — or just want to look like you do — you'll have to keep it long, and should expect to do a lot of grooming.
When kept long, the coat needs daily brushing to prevent mats from forming, and frequent baths to keep it clean. In general, it's wise to keep the hair above the eyes tied up to prevent irritation — it looks cute, too.
Unless you're highly motivated and skilled, you're probably better off with a professional groomer. Owners can learn to groom their dogs, but it takes a dedicated person to keep this breed's coat in good shape.
Watery eyes and resulting tearstains are common in the Havanese. Keep in mind that excessive tearing can signal an eye problem and should be checked by a veterinarian. However, most tearstains are not serious, and the cause is simply unknown. You can improve the stained look by keeping the hair around the eyes clean (wipe daily with a damp cloth). There are whitening products on the market made specifically for lightening the stains, which some owners find helpful.
Brush your Havanese's teeth
at least two or three times a week to remove tartar buildup and the bacteria that lurk inside it. Daily brushing is even better if you want to prevent gum disease and bad breath.
Trim nails
once or twice a month if your dog doesn't wear them down naturally. If you can hear them clicking on the floor, they're too long. Short, neatly trimmed nails keep the feet in good condition and prevent your legs from getting scratched when your Havanese enthusiastically jumps up to greet you.
Begin accustoming your Havanese to being brushed and examined when he's a puppy. Handle his paws frequently — dogs are touchy about their feet — and look inside his mouth and ears. Make grooming a positive experience filled with praise and rewards, and you'll lay the groundwork for easy veterinary exams and other handling when he's an adult.
As you groom, check for sores, rashes, or signs of infection such as redness, tenderness, or inflammation on the skin, in the ears, nose, mouth, and eyes, and on the feet. Eyes should be clear, with no redness or discharge. Your careful weekly exam will help you spot potential health problems early.
The Havanese is an excellent family dog who's affectionate with everyone, including kids of all ages and other dogs and pets. But because he's so small, he could easily get hurt by accident, so it's especially important to teach kids how to treat the dog.
You should always teach children how to approach and touch dogs, and always supervise any interactions between dogs and young children to prevent any biting or ear or tail pulling on the part of either party. Teach your child never to approach any dog while he's eating or sleeping or to try to take the dog's food away. No dog, no matter how friendly, should ever be left unsupervised with a child.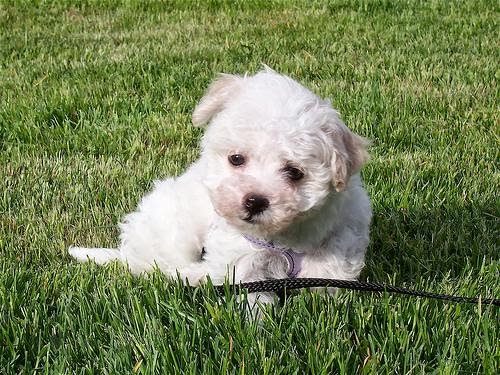 A dream day in the life of a Havanese
It is likely that your Havanese will wake up long before you to check the perimeter of your home. Ensuring that everyone is safe, he'll patiently wait for his human pack to wake up before joining them for breakfast. After a well-balanced meal, the Havanese will follow the members of the family, occasionally engaging in a bit of play. Once he has his daily walk, he'll be happy to spend the remainder of the day indoors with the people he loves most.