Everything about your Plott
December 7, 2016
9 minute read
The Plott is first and foremost a hunting dog who specializes in big game or anything else you want him to go after. For the person who can satisfy his desire to hunt and be active, he can be a wonderful companion and watchdog, well suited to family life. His short coat is easy to groom, but it sheds.

Overview
The Plott Hound is one of only four dog breeds developed exclusively in America; and although not previously in existence as a unique type prior to the 18th century, the Plott Hound can trace its ancestry to an archaic breed of dog called the Hanoverian Hound. The Hanoverian Hound was developed in Germany and is believed to have originally descended from medieval Bloodhound breeds. This lineage therefore, makes the Plott Hound undeniably ancient in its pedigree, and the only Coonhound breed not claiming British roots.

Highlights
Plott Hounds generally get along well with other dogs since they are a pack breed and many do best in homes where they are not an only dog.
Socialization is a must for this breed. They can be very dominant and should be socialized outside the home to avoid aggressive behavior.
Plott Hounds must have training at an early age. They are generally eager to please but without training dominance and aggression problems can arise.
Although they do well with older children who understand how to treat dogs, they are not recommended for homes with smaller children. They can become very possessive of food dishes and such. Even the best-trained or socialized dog should not be left alone with a young child.

The Plott Hound is an uncommon breed and there may be long waiting lists for a puppy. If you do not wish to adopt an older dog, please be prepared to wait and do not go to irresponsible breeders for a shorter wait.
Plott Hounds require at least an hour a day of walking or other exercise. They are not suited to living in apartments.
Plott Hounds require weekly brushing as well as other regular grooming care, such as nail trimming and tooth brushing.
Plott Hounds are not the best breed for an inexperienced or timid dog owner. Although they are very easy to train, they do have a dominant personality and will disregard an owner that is less sure of him or herself.
Plott Hounds should have a fenced yard or be kept on leash since they have a tendency to wander off in pursuit of an interesting scent. They do not have any road sense and will wander into oncoming traffic if their path takes them there.
To get a healthy dog, never buy a puppy from an irresponsible breeder, puppy mill, or pet store. Look for a reputable breeder who tests her breeding dogs to make sure they're free of genetic diseases that they might pass onto the puppies, and that they have sound temperaments.
Other Quick Facts
The Plott is an aggressive, bold, fearless hunter who is loyal, intelligent, and alert.
The Plott's skin is not as loose and droopy as that of some scenthounds, and his ears aren't as long.
The Plott has a distinctive "chop" — a loud, staccato, ringing bark that lets the hunter know he is on the trail of or has treed his prey.
The Plott is the dog of choice for big-game hunters in search of bears, cougars, or hogs. They are also used to tree raccoons, and many farmers like to keep them as all-purpose dogs.
The Plott's smooth, fine coat can be any shade of brindle, black with brindle trim, solid black, or buckskin, which ranges from red fawn through sandy red, light cream, yellow ochre, dark fawn or golden tan.
AKC group: Hound
UKC group: Scenthound
Average lifespan: 12-14 years
Average size: 40-60 pounds
Coat appearance: Glossy, smooth, and fine
Coloration: Blue brindle, brown brindle, red brindle, black brindle
Hypoallergenic: No
Other identifiers: A medium-sized muscular and strong body, black lips and nose, black-rimmed brown or hazel eyes, tight skin around face, square-shaped muzzle, hanging ears that are medium in length, webbed toes, and long tail
Possible alterations: May be all black in color and have saddle markings. Dog has a "chop" sound when he has successfully hunted down his prey.
Comparable Breeds: Black and Tan Coonhound, Redbone Coonhound
The Plott Hound descends from five Hanoverian Schweisshunds brought to North Carolina in 1750 by German immigrant Johannes Georg Plott. In Germany the dogs had been used as boarhounds, but North Carolina had bears, and that's what Plott trained his dogs to hunt. Plott's descendants continued to breed the dogs, and they became known as Plott's hounds.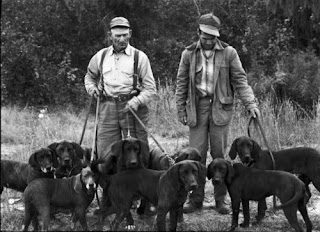 Von Plott (left), a descendent of the original developers
of the Plott hound breed in Haywood County, NC,
with a group of hounds at Lake Waccamaw, NC;
man on right is probably Von's brother John Plott.
Circa early 1950s.
They spread throughout the Smoky Mountains, with each hunter adding his own touch to the breed, and eventually returned to their roots by being used to hunt wild boar in addition to bear. They were also used to hunt mountain lions and, with judicious crosses to add better treeing ability, raccoons.
In the early 1900s, a cross with some black-and-tan hounds owned by a man named Blevins brought the Plotts additional scenting talent as well as the black-saddled brindle pattern. Today, most Plott Hounds trace their pedigrees back to the two legendary hounds that resulted from this cross: Tige and Boss.
The breed began to be registered by the United Kennel Club in 1946. The Plott Hound became the official dog of North Carolina in 1989. He's also registered by the American Kennel Club and is starting to make his way in the show ring.
He is still relatively rare, however, and is most often found in the mountains of Appalachia, the Smokies, and other wild parts of the country where his hunting skills are appreciated.

Personality
Plott Hounds originated in the Hills of North Carolina where they were used to hunt bear and wild boar. This makes them sturdy, fearless hunting companions and excellent family watchdogs. Plotts need to live in an active household with people who love the outdoors. They enjoy hiking, running and romping in the yard, and hunters still use them in the field to hunt large game. Plott Hounds are pack dogs and are at their happiest in a home with multiple dogs for him to socialize with. Plotts are generally friendly toward strangers and enjoy the company of older, well-behaved children.

Health
The Plott, which has an average lifespan of 11 to 13 years, is not prone to any major health concerns. However, some Plotts do succumb to canine hip dysplasia (CHD). To identify this condition early, a veterinarian may recommend hip exams for this breed of dog.

Care
Although Plott Hounds have moderately low energy indoors, they are active outside. If you don't have a several fenced acres that they can explore and sniff, expect to give them about an hour of exercise daily. You can break it up into two or three walks or playtimes. The Plott is a walking companion, not a jogger. He likes to meander along and sniff out interesting trails.
Plott Hounds should remain on leash when they are not in an enclosed area and they should have a fenced yard when they are left outside. They will wander away, and they have no road sense. They'll follow an interesting trail right into the path of a car. While a Plott needs a fenced yard for safety, he's not a yard dog. When you're home, he should be there with you.
Plott Hounds are fairly easy to train due to their intelligence and eager to please temperament. They do have a dominant streak and are not suggested for inexperienced or timid dog owners who are unable to consistently enforce rules and commands. They do well with positive reinforcement, and corrections should never be harsh or cruel. That will only make your Plott become stubborn or sulky.
Plott Hounds must be socialized to prevent any aggression problems. Many obedience schools offer puppy socialization classes and this is a great start. Also remember to gradually expose your puppy to various stimuli within the community and in your home.
Plotts can be possessive of their food dishes and will attack other dogs and animals that nose around their food. Teaching your Plott Hound to allow people to handle and remove his food dishes is an important training step that cannot be missed.

Living Conditions
The Plott Hound is not recommended for apartment life. It can live and sleep outdoors provided it has proper shelter. This breed has no road sense at all and should be kept in a safe area because it has a tendency to wander.

Trainability
Plotts are a snap to train for experienced dog owners. If used in the field, they need virtually no training to work with a hunter. At home, obedience training goes quickly and smoothly if conducted early. This breed exhibits dominance, so it is imperative to teach them as puppies who exactly runs the household. Once leadership is established, everything else falls into place. Plotts are pack animals who instinctively respect the leader. Treats and positive reinforcement should be all you need to train a young Plott. Older Plotts who have developed bad habits may require a firmer hand, but this breed should never be treated harshly. If they aren't afraid to attack bears, they surely won't be scared to nip at you. Boundaries are important and rule enforcement should be done with absolute consistency.

Activity Requirements
Plott Hounds need a lot of activity to maintain health and happiness. They can spend an entire day in the field tracking and penning prey, so companion Plotts should be allowed to run as much as possible during the day to burn off excess energy. They make excellent jogging companions and enjoy trotting alongside bike riders. They make excellent hiking and camping companions, acting as both comrade and protector.
These are pure country dogs and do not do well in houses without yards or in apartments. Plotts need room to run and roam, and if penned inside all day will become rambunctious and destructive.

Grooming
The Plott has a distinctive coat. It's smooth and fine, but thick enough to protect the dog as he hunts in cold, wet or rough conditions. A few Plotts have a double coat: a short, soft, thick under coat topped by a longer, smoother, stiffer hairs.
Caring for a Plott's coat is easy. Groom it at least weekly with a rubber curry brush to remove dead hair and distribute skin oils. If your Plott spends a lot of time indoors, you might want to brush him more often to keep dead hair on the brush and off your furniture and clothing. Plotts with a double coat will shed more heavily and need to be brushed two or three times a week.
Be aware that scenthounds such as the Plott can have what is often described as a musty odor. Regular baths can help keep the aroma under control, but it's something you should be prepared to live with.
The rest is basic care. Trim the nails as needed, usually every week or two. Keep the hanging ears clean and dry to prevent bacterial or yeast infections. Brush the teeth frequently with a vet-approved pet toothpaste for good overall health and fresh breath.

Children And Other Pets
Plott Hounds do well in homes with children, although they're best suited to living with older children who understand how to interact with dogs. Plotts can be possessive of their food bowls, and this can pose a problem if a young child tries to snag a handful of kibble.
Always teach children how to approach and touch dogs, and always supervise any interactions between dogs and young children to prevent any biting or ear or tail pulling on the part of either party. Teach your child never to approach any dog while he's eating or to try to take the dog's food away. No dog should ever be left unsupervised with a child.
Plott Hounds can get along well with other dogs if they're introduced at a young age. If they raised with them, they can even learn to get along with cats, although they may tree cats they find outside.

Is this breed right for you?
An outgoing and social breed, the Plott makes an excellent addition to a family with children. Loving and loyal, he does best with a home that includes a fenced-in yard. In need of a dedicated owner, he's fast to learn when given proper leadership. A natural-born athlete, this pup is in need of a lot of exercise and enjoys hunting and being outside. He's a good breed to keep inside or outside the home and is not recommended for apartment living. Only doing well with cats when raised with them, he will likely chase a cat that he doesn't know.

Did You Know?
The mountains of western North Carolina are the birthplace of one of America's few homegrown dogs.

A dream day in the life of a Plott
Waking up early to hunt, the Plott will work from sunup to sundown. Returning home, he'll happily play with the family while running and chasing them outdoors. Inside, he'll engage in family time by following around those that he loves. With an afternoon walk including smelling a few scents, he'll be back in the home to spend quality time with his loving family.