Everything about your Anatolian Shepherd
June 27, 2018
8 minute read
The Anatolian Shepherd breed are a Mastiff dog bred originally in Turkey.
This dog was originally used as a guard dog for nomadic farmers and used to extremes of temperatures.
In both Turkey and Australia, it has been found these dogs work in very well with goats and sheep. Farmers hold them in high regards. Although tough and hardy, they get on well with other dogs, not always good domestic pets, as their independent natures and devotion to their duties as a herder is such that they have been known to attack their owners if the dog thought one of the herd was to be hurt.

Overview
The Anatolian Shepherd Dog is a hard worker. Amazing guard dogs, you'll find that this breed is very loyal to its owner. Easygoing and calm, the Anatolian loves kids and will happily spend hours playing with them. It's been known under many names: Anatolian Karabash Dog, the Kangal Dog, the Turkish Guard Dog, the Turkish Sheepdog and the Karabash Dog. Even though the Anatolian is highly intelligent and obedient when trained, it is not a dog for everyone. Since this breed is powerful and has great endurance, it needs plenty of daily exercise.
The Anatolian Shepherd Dog needs a large home with lots of space, and loves to be outside. A wonderful companion, this dog has many qualities that make it a great pet. Read on to learn more about this fascinating breed.

Highlights
It is critical that the Anatolian Shepherd receive proper socialization and training so that he can learn what is normal and what is a threat. Untrained and unsocialized Anatolian Shepherds can become overprotective, aggressive, and uncontrollable.
Anatolian Shepherds are independent and less eager to please than other breeds. They won't not necessarily wait for instructions but will act if they think their "flock" is threatened.
As guardians of their territory, some can be barkers, especially at night.
Some Anatolians can be dog-aggressive.
Expect a challenge for leadership at some point with the Anatolian Shepherd. Owners must be willing to exercise pack authority consistently and kindly.
Because they are so large, expect high costs for boarding, medications, and food purchases; you'll also need a large vehicle for them.
Once you've earned an Anatolian's loyalty, he will guard you and whatever you have on your property with his life.
In Namibia, Anatolians guard livestock from cheetahs, protecting the livestock from predation and the cheetahs from being shot by angry farmers.
The Anatolian's double coat sheds heavily. Some people have given up the dogs to rescue groups because of it.
All color patterns and markings are acceptable, including white, fawn, brindle, or fawn with a black mask. Often, his coloration or markings echo that of the livestock he is guarding to help him blend in.
AKC group: Working dog
UKC group: Guardian Dog
Average lifespan: 13-15 years
Average size:80 to 150 pounds
Coat appearance: short, rough
Coloration: Red, Brown, White, Cream
Hypoallergenic: No
Best Suited For: Families with children, active singles and seniors, houses with yards, farmers, rural/farm areas, guard duty
Temperament: Easygoing, protective, loyal, devoted
The Anatolian Shepherd Dog is named for his homeland of Anatolia in the central part of Turkey, where he is still a point of pride .
It's thought that the working ancestors of the breed date back 6,000 years. Wandering tribes from central Asia probably brought the first mastiff-type dogs into the area that is now Turkey, and sight hound breeds from southern regions contributed to the Anatolian's agility, long legs, and aloof character.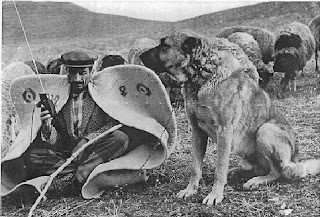 Due to the climate and terrain of the area, the local population developed a nomadic way of life, dependent on flocks of sheep and goats. The protection of those flocks, and of the shepherds themselves, was the job of the large dogs who traveled with them.
The dogs became known as coban kopegi, Turkish for "shepherd dog." The dogs stayed with the animals night and day, and they had to be swift enough to move quickly from one end of a widely scattered flock to the other. They also had to be large and strong enough to stand up to predators.
Severe culling and breeding of only the best workers resulted in a dog with a uniform type, stable temperament, and excellent working ability. Dogs were often not fed once they were past puppyhood. They lived by killing gophers and other small animals, though never injuring their flock. They were fitted with iron collars with long spikes to protect their throats from assailants. You can still find working dogs wearing these collars in Turkey today.
Anatolian Shepherds got their most enthusiastic introduction in the U.S. in the 1970s, although prior to that the Turkish government had given Anatolians to the U.S. Department of Agriculture as a gift, for experimental work as guardians of flocks.
In 1970, the Anatolian Shepherd Dog Club of America was formed at the urging of Robert Ballard, a U.S. naval officer who had become fascinated by the dogs while in Turkey, and who began to breed them once back in California. The breed entered the American Kennel Club Miscellaneous Class in 1996. It moved to the Working Group in August 1998.
The Anatolian Shepherd dog was developed to be independent and forceful, responsible for guarding its master's flocks without human assistance or direction. These traits make it challenging as a pet; owners of dogs of this breed must socialize the dogs to turn them into appropriate companions. They are intelligent and can learn quickly but might choose not to obey.
According to Turkish shepherds, three Anatolian Shepherd Dogs are capable of overcoming a pack of wolves and injuring one or two of them. These dogs like to roam, as they were bred to travel with their herd and to leave the herd to go hunt for predators before the predators could attack the flock. Therefore, it is recommended to microchip and tag pets.
The Anatolian Shepherd is not recommended for life in small quarters. They do well with other animals, including cats if they are introduced while still a puppy and have their own space. They mature between 18–30 months. Due to their history, both puppies and adults seem to have little interest in fetching. Rather, they prefer to run and sometimes swim.
Presence of some Anatolian shepherd genes in Alaskan huskies positively correlates with husky work ethic.
The average life span of the Anatolian Shepherd Dog is 10 to 13 years. Breed health concerns may include cancer, ear infections, entropion, hip dysplasia and hypothyroidism. Otherwise, they appear to be healthy, hearty dogs.
The Anatolian Shepherd requires minimal coat care, comprising of just once a week brushing session to clear the dear hair. A brisk run or long walk is all it requires for a daily exercise regimen. It is also fond of socializing with its family, but can live outdoors in cool and temperate climates.
Anatolian Shepherds are not recommended for apartment life. They are relatively inactive indoors and will do best with at least a large yard. This breed is very suspicious of strangers, and it is therefore necessary to provide a secure, fenced yard.
Not for the first-time owner, Anatolian Shepherds need a confident leader. This breed is stubborn and dominant, and once this dog knows who is in charge, training should go smoothly. Trainers need a strong and consistent hand to establish leadership. If not, don't be surprised if your Anatolian takes over your household.
When it comes to a dog's instincts, you can't train it out of them. This holds true for the Anatolian Shepherd Dog's innate sense to protect its family, which includes people and other animals in the household. You can train your dog to limit these behaviors, but don't expect these habits to desist. Instead, you can use these protective instincts to protect your household and everyone in the family. Anatolians will be wary of strangers, so ensure that visitors to your home are introduced to the dog properly.
This large breed should not live in an apartment. Though Anatolian Shepherds need less exercise than other breeds of comparable size, they still need plenty of walks and daily time to run. Organized games of catch or fetch don't interest this breed. If they don't have livestock to work with, their desire to work can be satisfied by pulling a sled or cart, or engaging in tracking activities.
Farms are the ideal living space, as they have an inborn desire to work and protect flocks, and benefit from the open space to run. Families with small children should think twice about adopting an Anatolian. While they will bond well with members of their own family, they often don't react well to children they do not know.
This is a double-coated breed that sheds heavily. Grooming the Anatolian requires at least weekly brushing — daily during the twice yearly shedding season — and dogs with a thick, plush coat may need to be brushed more frequently. That comes as an unpleasant surprise to some people. It's even one of the reasons owners give up Anatolians to rescue. On the plus side, baths are rarely necessary. Brushing usually keeps the coat clean, and the dog has little odor.
Anatolians have drop ears, so they can be prone to ear infections. Keep the ears clean and dry to prevent bacterial or yeast infections from taking hold.
The rest is basic care. Trim the nails as needed, usually every few weeks. Brush the teeth frequently for good overall health and fresh breath.
The Anatolian Shepherd is loving with his family, including the children, with whom he's calm and protective. But because of his large size, he's probably better suited to families with older children. He's unlikely to respect young children as leaders, so all interactions between the Anatolian and children should be supervised by responsible adults.
As with every breed, you should always teach children how to approach and touch dogs to prevent any biting or ear or tail pulling on the part of either party. Teach your child never to approach any dog while he's eating or sleeping or to try to take the dog's food away. No dog, no matter how friendly, should ever be left unsupervised with a child.
The best chance of the Anatolian Shepherd accepting other dogs and pets is to raise him with them from puppyhood. As he grows, he'll naturally accept them as part of his "flock."
While his protective nature is attractive, the Anatolian Shepherd is not an appropriate choice for a novice dog owner. He needs someone who can guide him with kind, firm, consistent training, never force or cruelty. He is an independent thinker but responds well to routine.
Duke– animal ambassador at the San Diego Zoo.
Bart, from Kate and Leopold
Butch, from Cats & Dogs and Cats & Dogs: The Revenge of Kitty Galore
Corky, from Road Trip
Marlowe, from Simon & Simon
Sam, from Shooter
Haatchi, a three-legged Anatolian Shepherd who has formed a special bond with Owen, a 7-year-old boy suffering from Schwartz-Jampel syndrome. Haatchi and Owen were the winners in the "Friends for Life" category at Crufts in 2013. Haatchi was also awarded The Braveheart Honour in the ceremony of The British Animal Honours in April 2013 (Haatchi the dog), and an Endal Medal.