Everything about your Beagle
June 18, 2014
14 minute read
The Beagle is a happy, inquisitive, shorthaired hound who makes a great family companion, an eager hunter in the field — or both!
Small, compact, and hardy, Beagles are active companions for kids and adults alike. Canines in this dog breed are merry and fun loving, but being hounds, they can also be stubborn and require patient, creative training techniques. Their noses guide them through life, and they're never happier than when following an interesting scent. The Beagle originally was bred as a scenthound to track small game, mostly rabbits and hare. He is still used for this purpose in many countries, including the United States.
Although beagle-type dogs have existed for over 2,000 years, the modern breed was developed in Great Britain around the 1830s from several breeds, including the Talbot Hound, the North Country Beagle, the Southern Hound, and possibly the Harrier.
Beagles have been depicted in popular culture since Elizabethan times in literature and paintings, and more recently in film, television and comic books. Snoopy of the comic strip Peanuts has been promoted as "the world's most famous beagle".

Overview
It's difficult to resist the appeal of a Beagle's dark brown or hazel eyes, with his soft, pleading expression. They're happy, outgoing and loving — characteristics more than balanced out by their hound nature, which is inquisitive, determined, and focused on food.
They aren't yappy dogs, but they do have three distinct vocalizations — a bark/growl, a baying howl, and a half-baying howl (a cross between a frantic bark and a bay). The half-howl vocalization usually is reserved for when they catch sight of quarry — or think it's time to wake the neighbors at 6 a.m.! Being pack dogs, they generally get along well with other animals and their human friends — and they think everyone is their new best friend.
The most important thing to know about the Beagle is that he is a scenthound. His nose is the most important part of his anatomy and his head is always down to the ground, searching for an interesting trail to follow. Beagles have approximately 220 million scent receptors compared to the paltry 5 million or so in people, which makes them very good at picking up scents. Humorist Dave Barry once described his in-laws' Beagle as "a nose with feet."
You may have seen the Beagle's nose at work at airports across the country. In 1984, the U.S. Department of Agriculture decided to use Beagles to sniff out contraband food being brought into the United States at the Los Angeles International Airport.
The experiment was a huge success. Because they are small, friendly, and cute, the Beagles didn't intimidate people who are afraid of dogs, and with their super nose power, they could be trained to identify specific food articles while bypassing those that weren't contraband. Today, members of the "Beagle Brigade" patrol the baggage-claim areas at more than 20 international airports and other points of entry into the United States.
Although they've branched out into other fields of work, Beagles remain superb hunters of small game. The National Beagle Club's Institute Farm hosts AKC-sanctioned field trials where breeders with packs are put to the test in the field. Many other countries have similar activities for hunting Beagles.
Because of their small size and gentle temperament, Beagles can do well in apartments if their people are willing to walk them on lead several times a day in all kinds of weather. They need plenty of exercise, about an hour a day if possible. If left alone and unexercised, Beagles can become destructive.


Breed standards
AKC group: Hound
UKC group: Scenthound
Average lifespan: 12-15 years
Average size: 20-25 lbs
Coat appearance: Sleek, smooth, short
Coloration: Brown, white & black, and more
Hypoallergenic: No
Other identifiers: Squarely built, fairly long body with short legs for hunting and chasing. The square muzzle is straight and medium in length. Long, wide-set ears. Black nose is broad with full nostrils for piqued sense of smell and a high-set, straight tail, never curled.
Possible alterations: Coat coloring varies and can be seen in tricolor, black and tan, red and white, orange and white, and many other variations.
Comparable Breeds: Basset Hound, Bloodhound
Highlights
Beagles can be difficult to housetrain. Some people say it can take up to a year to fully housetrain some Beagles. Crate training is absolutely recommended.
Beagles can get bored if left alone in a house too long. If left in a backyard, Beagles will start finding ways to amuse themselves, usually by howling, digging, or trying to escape.
The most common reason Beagles are turned over to rescue groups is because either their owners or their owners' neighbors got tired of their baying. Be sure that you are prepared to work with your dog to control excessive barking and howling.
Beagles are targets for thieves who would steal them and perhaps sell them to research laboratories for use in experiments. Supervise your Beagle when he is outdoors and be sure to have him microchipped!
Since they are scenthounds, Beagles will wander off if they catch an enticing smell in the air. Their noses control their brains, and if they smell something interesting, nothing else exists in their world.
Although they are loving and gentle, Beagles can have an independent, stubborn streak. Obedience training is recommended, but be sure the instructor of the class understands hound personality and favors using food as a reward.
Beagles come in two sizes; both sizes of Beagles can be born in a single litter. If you want to be sure you get one of a certain size, wait to purchase a puppy until he is about nine months old.
Beagles bred for hunting are more likely to be noisy and active than Beagles bred for the show ring.
You might not think so when you are trying to train him, but the Beagle is very smart in the sense that he is a good problem-solver. He might not respond instantly to your commands, but he will quickly figure out how to overcome any obstacles that are preventing him from getting something he wants.
Beagles need daily exercise and mental stimulation in the form of sniffing. Without it they can become bored and destructive. Provide them with the attention, training and activity they need or suffer the consequences.
Shyness and aggression are not common Beagle characteristics. Do not choose a puppy who shows signs of these behaviors.
The origin of the word "beagle" is uncertain. It's thought that it may have been derived from the French word begueule, meaning open throat, or from the Old English word beag, meaning small. Others think it may have come from the French word beugler, meaning to bellow, or the German word begele, meaning to scold.
The breed's history is cloudy as well because breeds as we know them today didn't really develop until the 19th century. Greek documents from 400 B.C. describe Beagle-like dogs, and the Romans may have brought small rabbit-hunting hounds with them to England and bred them with the local hounds.
William the Conqueror reportedly brought Talbot hounds to England during the Norman Conquest in 1066. These dogs are thought to be the ancestors of the Beagle and the Foxhound.
Beagles became popular in England very early in its history. During the reigns of Edward II (1307 – 1327) and Henry VII (1485 – 1509), extremely small beagles, called Glove Beagles, were popular. They reportedly were small enough to be held in a gloved hand. There's also mention of Singing Beagles, named for their bugling voices.
Elizabeth I (1533 – 1603) kept packs of Pocket Beagles that stood only 9 inches tall. These small dogs were depicted in paintings as short-legged and pointy nosed. They were used for hunting, but quickly fell out of favor because they weren't very fast.
In the 1700s, fox hunting became popular in England, and the Beagle fell out of favor as the larger Foxhound became the dog of choice. If it hadn't been for the farmers in England, Ireland, and Wales who continued to keep packs to hunt rabbit and hare, the breed might have become extinct at that time.
In the mid-1800s Reverend Phillip Honeywood established a pack of Beagles in Essex, England. These dogs are thought to be the ancestors of the modern Beagle. Rev. Honeywood bred for hunting skills, not looks. Thomas Johnson, a fellow Englishman, was responsible for breeding Beagles who were both attractive and good hunters.
At about the same time, American breeders started importing Beagles from England to improve the looks of their own dogs. Many of the English imports were bred to an average height of 15 to 17 inches at the shoulder so they could hunt fox. American breeders started breeding them to be smaller for rabbit hunting.
Of interest is the "Patch" Beagle strain developed by Willet Randall in New York around 1880. The line is primarily white with a very large tri-colored spot. They were very popular in the 1940s and 1950s because they were able to run so fast. Today, many people call lemon and white or red and white beagles "Patch" beagles.
The American Kennel Club and the first Beagle specialty club both were founded in 1884. In that same year, the AKC began registering Beagles.
In 1916, five members of the National Beagle Club purchased 508 acres in Western Loudoun County, Virginia for the purpose of holding field trials. The men who purchased it formed a corporation called Institute Corporate to purchase and own the land, then leasing it to the Institute Foundation that maintains the property for the National Beagle Club, which today is the site of many activities of the National Beagle Club.
Temperament and Personality
Beagles are happy, outgoing and loving. They are often described as having a merry temperament, but they are also known for their mischievous nature. Beagles like to have their own way, and they can be naughty, determined and stubborn in their efforts to get what they want, which is usually food.
Start training early, be patient and be consistent, and one day you will wake up to find that you live with a great dog. But even so, there are a few Beagle behaviors that you should expect to live with throughout his life. They are part and parcel of being a Beagle, and nothing you do will change them. Beagles love good smells, Beagles howl, Beagles have selective hearing, and Beagles love to eat.
Everything a Beagle does somehow leads back to his nose. His powerful sense of smell overcomes any good sense you might have tried to instill and tells the Beagle to escape from the yard or break into the dog food bag in the pantry or see what's in the trash. When channeled properly, it's also what makes him a great arson dog or termite detector, so it all evens out in the end. Just remember that when your Beagle's nose is down, his "other brain" is turned off.
Beagles have what fans call a "musical" voice, but to your neighbors it's just going to sound like really annoying noise. Beagles will sing along to sirens, "give tongue" when they are hunting, and bark when strangers come to the door, but they aren't usually nuisance barkers unless they are bored or lonely. If you don't live out in the country where no one else is around to hear his drawn-out "Aaaaarrrroooooh," keep your Beagle occupied with toys, the company of another animal or, best of all, your presence so he doesn't feel the need to serenade the neighborhood.
Beagles like to do what they want to do, not necessarily what you want them to do. They are true masters when it comes to selective hearing. If a Beagle isn't interested in the request you've made — commands are futile with this breed — he will simply ignore you or wander off. That can be frustrating if you're not prepared for it. Successfully living with a Beagle means making everything a game, one that will hold his attention.
As for eating, well, Beagles will try to eat anything. They are professional food thieves, and they will eat anything that even looks like it might be food, including things that you wouldn't imagine would interest them. If nothing else, living with a Beagle will teach you, your spouse and your kids not to leave food of any kind within a Beagle's nose range.
The biggest trick to training a Beagle is to make everything you do with him seem like fun. Never try to force a Beagle to do anything, and never count on a Beagle to be obedient unless you can offer treats as an incentive. This is one breed where it's important to keep in mind that old saying about catching more flies with honey than with vinegar.
Your Beagle's personality will also be affected by the kind of breeder who produced him. Beagles from breeders who produce hunting dogs are more likely to be hard-charging and demanding of exercise. They are unsuited to lying around the house all day while everyone is at work or school. More laid back Beagles typically come from a breeder who shows dogs in conformation.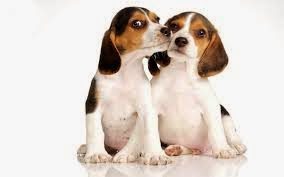 Any dog, no matter how nice, can develop obnoxious levels of barking, digging, food stealing and other undesirable behaviors if he is bored, untrained or unsupervised. And any dog can be a trial to live with during adolescence. In the case of the Beagle, the "teen" years can start at six months and continue until the dog is about three years old and sometimes throughout life. Some Beagles just never lose that fun-loving, happy-go-lucky puppy nature. While it makes them entertaining to live with, it also means that they need more supervision than the average adult dog. Fair warning!
The perfect Beagle doesn't spring fully formed from the whelping box. He's a product of his background and breeding. Whether you want a Beagle as a companion, show dog, hunting dog or all three in one, look for one whose parents have nice personalities and who has been well socialized from early puppyhood.
The typical longevity of Beagles is 12–15 years, which is a common lifespan for dogs of their size. Beagles may be prone to epilepsy, but this can often be controlled with medication. Hypothyroidism and a number of types of dwarfism occur in Beagles. Two conditions in particular are unique to the breed: "Funny Puppy", in which the puppy is slow to develop and eventually develops weak legs, a crooked back and although normally healthy, is prone to a range of illnesses;Hip dysplasia, common in Harriers and in some larger breeds, is rarely considered a problem in Beagles. Beagles are considered a chondrodystrophic breed, meaning that they are prone to types of disk diseases.
In rare cases, Beagles may develop immune mediated polygenic arthritis even at a young age. The symptoms can sometimes be relieved by steroid treatments. Another rare disease in the breed is neonatal cerebellar cortical degeneration. Affected puppies are slow, have lower co-ordination, fall more often and don't have a normal gait. It has an estimated carrier rate of 5% and affected rate of 0.1%. A genetic test is available.
Their long floppy ears can mean that the inner ear does not receive a substantial air flow or that moist air becomes trapped, and this can lead to ear infections. Beagles may also be affected by a range of eye problems; two common ophthalmic conditions in Beagles are glaucoma and corneal dystrophy. "Cherry eye", a prolapse of the gland of the third eyelid, and distichiasis, a condition in which eyelashes grow into the eye causing irritation, sometimes exist; both these conditions can be corrected with surgery.They can suffer from several types of retinal atrophy. Failure of the nasolacrimal drainage system can cause dry eye or leakage of tears onto the face.
Is this breed right for you?
Beagles make excellent family pets. They love affection and attention, and their loving personalities make them great pets to have around kids. Their medium-sized builds allow Beagles to feel comfortable in most environments; however, they are a very vocal and energetic breed, so apartment life may not be ideal.
A fenced backyard is a necessity with a scenthound such as a Beagle. When outside, your Beagle should be on lead in unconfined areas, or securely confined and supervised. He's a wanderer by nature, so in case he escapes — a common occurrence with Beagles — be sure he's microchipped and wearing identification tags on his collar so he can be returned to you.
Some people prefer to use an underground electronic fence, but this type of enclosure doesn't prevent other animals from coming into your yard. Besides, if a scent is enticing enough your Beagle will be more than willing to risk a momentary shock to follow it.
Like all dogs, Beagles benefit from obedience training. Positive reinforcement techniques work best because Beagles will simply switch off when treated harshly. Most Beagles are more than happy to do anything for a tasty treat.
Adolescent Beagles are full of energy and need a lot of opportunities to work it all off. They love to go for walks with their family, or, even better, a good run across a field to hunt down rabbits . They'll enjoy jogging with you, but wait until they're 18 months or older before starting them on a repetitive exercise like this.
Beagles are easy-care dogs who don't need a lot of fancy grooming. A good going-over with a hound mitt once or twice a week removes dead hairs and helps keep them from migrating to clothing and furniture. And that's the bad news: Beagles shed year-round. The good news: unless your Beagle rolls in something stinky, which is a strong possibility, he shouldn't need a bath more than three or four times a year.
Keep your Beagle's droopy ears clean with a solution recommended by your veterinarian. Don't use cotton swabs inside the ear; they can push gunk further down into it. Wipe out the ear with a cotton ball, never going deeper than the first knuckle of your finger.
Trim his nails regularly, usually every couple of weeks. They should never be so long that you hear them clicking on the floor.
When mature, a Beagle can become fairly lazy, content to lie about the house all day, getting up for meals and perhaps an occasional scratching of the ears. Since this is a breed prone to obesity, don't let this happen.
Beagles will do okay in an apartment if they get plenty of chances to be outdoors. They are very active indoors and a small yard will be sufficient.
Energetic and possessing great stamina, the Beagle needs plenty of exercise, including a brisk daily walk. It should have a fenced yard of reasonable size to romp in. Always use a lead when walking this breed or you will be running the risk of it disappearing in search of wild game.
Beagles are used as scent detection dogs at U.S. airports, where their friendliness allows them to search for weapons, drugs and illegal food items without making passengers nervous the way a larger "police dog" might.
Beagles bond with everyone in the family, especially children. They can be rambunctious when playing, however, so they need to be properly socialized and supervised with very young children. In addition, Beagles tend to be "mouthy," grabbing things, including your or your child's hand, with their mouths to play. They do this in fun and can be trained not to do this.
As with every breed, you should always teach children how to approach and touch dogs, and supervise any interactions. Teach your child never to approach any dog while he's eating or sleeping or to try to take the dog's food away. No dog, no matter how friendly, should ever be left unsupervised with a child.
Because of their pack dog heritage, Beagles enjoy company and don't like to be left alone. Another dog or even a cat will help meet their companionship needs.
Beagles have been featured across a wide range of media. References to the dog appear before the 19th century in works by such writers as William Shakespeare, John Webster, John Dryden, Thomas Tickell, Henry Fielding and William Cowper, and in Alexander Pope's translation of Homer's Iliad. Beagles appeared in funny animal comic strips and animated cartoons from the 1950s with the Peanuts character Snoopy, billed as "the world's most famous Beagle",Walt Disney's Beagle Boys, Odie, Garfield's friend and "chew dog" and Beegle Beagle, the constant companion of Hanna-Barbera's Grape Ape. They have appeared in numerous films, taking a central role in Underdog, Cats & Dogs and its sequel, and the title roles in the adaptation of Phyllis Reynolds Naylor's book Shiloh.
They have played supporting roles in films including Audition, The Monster Squad, I Am Number Four and The Royal Tenenbaums, and on television in Star Trek: Enterprise, EastEnders, The Wonder Years, and To the Manor Born among others. Former US President Lyndon Baines Johnson had several Beagles, and caused an outcry when he picked up one of them by its ears during an official greeting on the White House lawn. The ship on which Charles Darwin made the voyage which provided much of the inspiration for On the Origin of Species was named HMS Beagle after the breed, and, in turn, lent its name to the ill-fated British Martian lander Beagle 2. Gromit of Wallace and Gromit is also a beagle.
Romping with the kids at the park or roaming wide-open spaces with its human best friends would mark an excellent day for this high-energy, attention-loving breed. A day of fun in the sun with plenty to sniff, chase and howl about is just what Beagle dreams are made of. After a few hours of playtime, a cozy nap on a warm lap would top off a perfect day.