Everything about your Border Terrier
July 12, 2017
8 minute read
Although he's not as flashy in appearance as some of his terrier relatives, the Border Terrier is still pure terrier, living life with great gusto, whether out and about with people or digging a hole in a flowerbed. Frankly, it's a bit surprising that he isn't more popular, given that he's one of the healthier purebred dogs, is less driven to hunt than most other terriers, and is fairly flexible about exercise. He's robust, sturdy, and great with children, making him one of the top terrier contenders for a family pet.

Overview
The Border Terrier is one of the oldest and smallest of the working terrier breeds that originated in Great Britain. Earlier names for this breed include the Reedwater Terrier, Ullswater Terrier and Coquetdale Terrier. They are well-known for their scruffy face and beard and their friendly, welcoming disposition. They are active, agile and sturdy little dogs, said to be "hard as nails" and "as game as they come." This breed thrives on human companionship and does well around children. However, they should not be in homes with other small animals such as birds, hamsters or mice, and they always will be inclined to chase cats. Border Terriers are friendly to everyone, including strangers, but will sound an alarm when something new or unfamiliar appears in their home territory.

Highlights
The Border Terrier is characterized by his rough coat, "otter"-shaped head, and an "at the alert" attitude.
As a breed, the Border Terrier has changed little over the years, aside from becoming more consistent in appearance.

Border Terriers have thick, loose skin, which protects them from adversary bites.Border Terriers become overweight easily, so be sure to measure your Border's food and give him at least a half hour of vigorous exercise each day.
Border Terriers thrive when they're with their people and aren't meant to live outdoors with little human interaction. When left to their own devices, they can be noisy and destructive.
These escape artists will find the way out of a fenced yard if given the time and opportunity. They've been known to climb over and dig under fences, and once they get out they have little street sense to keep them from dashing out in front of cars.
Border Terriers have a high threshold for pain. If your dog's sick, the only sign may be a behavioral change, such as the dog becoming withdrawn or quiet.
Border Terriers have a natural instinct to dig. Rather than fighting it, give your Border Terrier a place of his own to dig or put his digging drive to work with fun games.
Border Terriers are active and bouncy. They love jumping up on people to greet them.
Border Terriers aren't yappy, but they'll bark to alert you of anything unusual, and they can become nuisance barkers if they get bored.
Border Terriers have a high prey drive and will chase, attack, and even kill neighborhood cats, squirrels or other small animals. They'll also go after small pets such as rabbits, mice, or gerbils. Because of their tendency to chase, make sure your yard is securely fenced, and don't let your Border off leash in an unfenced area.
Border Terriers do well with other dogs and with family cats if the cat is raised with the Border Terrier or lived in the home before the Border Terrier.
Border Terriers can make excellent companions for kids, but they can be rambunctious, especially when young, and can unintentionally hurt small children.
AKC group: Terriers
UKC group: Terrier
Average lifespan: 12 – 14 years
Average size: 11.5 to 15.5 pounds
Coat appearance: Dense, Harsh and Rough, Thick, and Wire
Coloration: Red, wheaten, grizzle and tan, or blue and tan.
Hypoallergenic: Yes
Best Suited For: Families with children, singles, seniors, apartments, houses with/without yards
Temperament: Calm, friendly, curious, independent
The Border Terrier was developed in Great Britain,
where it originally was bred to hunt and kill the powerful hill foxes
that threatened the stock of farmers along the borders of Scotland and England. They had to be active, stout and tireless to perform this task. Their legs had to be long enough to keep up with horses and the accompanying foxhounds, while at the same time they needed to be low enough to the ground so that they could follow and corner foxes, even flushing them from their dens. It is thought that the Border Terrier,
Bedlington Terrier
and
Dandie Dinmont
share common ancestors.
The breed's popularity surged after it was officially recognized by the English Kennel Club as a distinct breed, and following formation of the British Border Terrier Club, in 1920. True terrier fanciers feared that recognition of Border Terriers as show dogs might "prettify" and soften the breed, but that has not proven true. The breed was well-established long before it became a show dog in the 1920s and retains is rough-and-tumbled looks and sound working character to this day. Border Terriers were first registered with the American Kennel Club in 1930 and are part of its Terrier Group. The Border Terrier Club of America was founded in 1949.
Though sometimes stubborn and strong willed, border terriers are, on the whole sound dogs, and are friendly and rarely aggressive. They are very good with children, but may chase cats and any other small pets.
Borders do well in task-oriented activities and have a surprising ability to jump high and run fast given the size of their legs. The breed has excelled in agility training, but they are quicker to learn jumps and see-saws than weaving poles. They take training for tasks very well, and are extremely trainable, and capable of learning tricks quickly and competently. The border in recent years has been bred to harbor a more subtle character so are more adaptable to apartment living if properly exercised.
They are intelligent and eager to please, but they retain the capacity for independent thinking and initiative that were bred into them for working rats and fox underground. Their love of people and even temperament make them fine therapy dogs, especially for children and the elderly, and they are occasionally used to aid the blind or deaf. From a young age they should be trained on command.
Borders can adapt to different environments and situations well, and are able to deal with temporary change well. They will get along well with cats that they have been raised with, but may chase other cats and small animals such as mice, birds, rabbits, squirrels, rats, and guinea pigs.
Borders are very independent and loyal. Some borders are known to be territorial and will protect their homes. They have a strong sense of smell and can tell when danger is near.
Borders love to sit and watch what is going on. Walks with Borders will often involve them sitting and lying in the grass to observe the environment around them.
The Border Terrier, which has an average lifespan of 12 to 14 years, is prone to canine hip dysplasia (CHD) and heart defects. The breed may also suffer from minor health issues such as patellar luxation. To identify some of these issues, a veterinarian may conduct hip and cardiac exams on this breed of dog.
Even though it can live outside in cool climates, this terrier is better when it has access to the yard and the house. The harsh coat demands weekly brushing and dead hair should be stripped four times a year so that it looks tidy.
As the Border Terrier enjoys activity, it should be provided with an adequate exercise routine such as a vigorous game, an off-leash expedition in a secure place, or a daily on-leash walk.
The Border Terrier will do okay in an apartment if it is sufficiently exercised. They are moderately inactive indoors and a small yard is sufficient.
You'll find that it is fairly easy to train the smart and able Border Terrier. An important note to remember is not to inadvertently teach this dog an unacceptable behavior, as Border Terriers have long memories. Once it is taught something is okay to do, it's challenging to try to reverse the behavior. But on the positive side, if a Border Terrier is given love and attention for performing a command correctly, it will do it again and again.
One of these reasons you see a lot of Border Terriers on TV and in the movies is because of its willingness to learn. This breed seems to really take to obedience training. This also means that the Border Terrier can be trained to work with disabled people.
The Border Terrier likes to chew, reducing even the toughest of toys to piles of fluff with no effort. When training, set boundaries as to what is acceptable for chewing and what is not. It is a good idea to invest in chew toys that are geared toward safe, heavy duty chewing.
Thanks to the irresistible combination of lovable, affectionate, and easygoing, the Border Terrier fits into just about any family or living environment. With the right training, you'll be able to mold a perfect, well-behaved dog.
Border Terriers can live happily in just about any environment be it an apartment, a house with lots of children, or a farm. They don't need an excessive amount of exercise, but should be allowed to walk several times a day and be allowed to run in a yard or park a few times a week. Yards should be fenced because Border Terriers will chase birds, squirrels and cats. Farmers like Border Terriers because they are very reliable ratters and keep foxes at bay.
They enjoy challenges and new tasks, so they need lots of mental activity as well. Challenging toys or hide-and-seek games are right up the Border Terrier's alley.
The Border Terrier has a double coat composed of a short and dense undercoat and a wiry topcoat. His coat fits closely to the body, like a jacket, and comes in a few colors, including red, grizzle and tan, blue and tan, and wheaten. To keep his coat healthy, simply brush or comb him weekly. Even in the show ring, he only needs a little tidying of his head, neck, and feet, although most breeders "strip" the coat — pluck out dead hair by hand — for a less scruffy look. The Border Terrier Club of America offers advice on grooming through its website. The rest is routine care: Trim his nails every few weeks, and brush his teeth for good overall health and fresh breath.
Children And Other Pets
Border Terriers love kids and can match their energy levels all day long, but they're a little rambunctious for households with children under the age of 6 years.
As with any dog, always teach children how to approach and touch your Border Terrier, and supervise all interactions between dogs and young children to prevent any biting or ear pulling from either party.
Border Terriers usually get along well with other dogs and cats, especially if they're introduced to them in puppyhood. They do best with dogs of the opposite sex. They're likely to chase outdoor cats as well as squirrels and other wildlife, and they shouldn't be trusted alone with pet birds or small, furry pets such as rabbits, hamsters, and gerbils.

Is the Border Terrier the Right Breed for you?
Moderate Maintenance: Regular grooming is required to keep its fur in good shape. Occasional trimming or stripping needed.
Minimal Shedding: Recommended for owners who do not want to deal with hair in their cars and homes.
Moderately Easy Training: The Border Terrier is average when it comes to training. Results will come gradually.
Fairly Active: It will need regular exercise to maintain its fitness. Trips to the dog park are a great idea.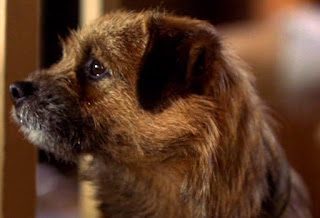 Chomp in 102 Dalmatians
Good for New Owners: This breed is well suited for those who have little experience with dog ownership.
Good with Kids: This is a suitable breed for kids and is known to be playful, energetic, and affectionate around them.

Did You Know?
Border Terriers hold more American Kennel Club Earthdog titles than any other breed.

Famous Border Terriers
Baxter in Anchorman
Brillo in Misfits episode "Four" as a street puppy eaten by new zombie Curtis
Hubble

in

Good Boy!
Lady Eccles in Coronation Street as Blanche Hunt's inheritance gift from her friend; belongs to her son-in-law Ken Barlow after her death in 2010
Monty and Rommel in Monarch of the Glen
Nancy in Unfabulous as Addie's pet dog
Oscar as Scotty the Dog in Ruby Sparks 2012
Pard in High Sierra
Pepper as Pinkybones in Another Happy Day
Puffy in There's Something About Mary
Seymour in Futurama episode Jurassic Bark
Shep Proudfoot, Greg Laswell's pet dog
Sickan in My Life as a Dog
Sorry in Seeking a Friend for the End of the World; Dodge's dog
Tansy as Toto from Return To Oz 1985
Toots in Lassie