Everything about your Chinook
September 27, 2016
8 minute read
Created in the White Mountains of New Hampshire, the Chinook dog breed made his name on Admiral Byrd's first Antarctic expedition in 1928. These days he's a multipurpose dog who's happy hiking, competing in agility and other dog sports, pulling a sled or other conveyance, and playing with the kids.

Overview
This rare breed of sled dog got his start when musher Arthur Treadwell Walden of Wonalancet, New Hampshire, bred a farm dog of unknown heritage with a "northern" husky, producing a litter of puppies with tawny coats. One of the pups, named Chinook, grew up to father a breed of dogs who not only had his physical characteristics but also his gentle disposition. Indeed, the calm and dignified Chinook lavishes plenty of affection on each family member, but he's best known for his love of children.
With his heritage as a hard-working sled dog, the Chinook is intelligent and easy to train if you use positive reinforcement techniques, such as praise, play, and food rewards. If you lead an active, outdoorsy lifestyle, this is the dog for you. Chinooks are great companions for hikers and backpackers, and they thrive at dog sports, including sledding and skijoring. They also perform well in agility, herding, obedience, and rally.

Highlights
Chinooks have a gentle, even temperament and are rarely shy or aggressive.
Chinooks should live indoors with their people, preferably in a home where they have access to a safely fenced yard.
Chinooks need 30 to 60 minutes of daily exercise. They enjoy hiking, jogging, and pulling, whether what's behind them is a sled, wagon, or person on skis or skates.
Chinooks are smart and learn quickly, but if you're not consistent in what you ask of them, they'll take advantage of you.
Chinooks are not barkers but can be talkative, whining and "woo-wooing" to express their opinions.
Chinooks have thick coats and shed heavily twice a year; the rest of the year they shed small amounts daily.
Chinooks need daily brushing to keep their coats clean, but baths are rarely necessary.
Chinooks love kids when they're raised with them, but can be reserved with them otherwise.
Never buy a Chinook from a puppy broker or pet store. Reputable breeders do not sell to middlemen or retailers, and there are no guarantees as to whether the puppy had healthy parents. Reputable breeders perform various health tests to ensure that their breeding dogs don't pass on a predisposition to genetic diseases.
Interview breeders thoroughly, and make sure the puppy's parents have been screened for genetic diseases pertinent to that breed. Ask breeders about the health issues they've encountered in their dogs, and don't believe a breeder who claims that her dogs never have any health problems. Ask for references so you can contact other puppy buyers to see if they're happy with their Chinook. Doing your homework may save you a lot of heartbreak later.
Other Quick Facts
In Inuit, Chinook means "warm winter winds."
The Chinook is an uncommon breed, so expect to wait up to a year for a puppy to become available.
A Chinook can have either drop or erect ears, and you won't be able to tell which type he'll have until he's four to six months old.
His hefty size may ward off an intruder, but the Chinook is not a guardian breed.
AKC group: Working Group
UKC group: Northern Breed Group
Average lifespan: 12 – 15 years
Average size: 55 – 70 pounds
Coat appearance: Dense to medium double coat
Coloration: Tawny, honey or reddish-gold
Hypoallergenic: No
Other identifiers: Muscular frame, wide nostrils, black nose, dark brown or amber eyes, moderate webbed toes and long curved tail
The Chinook is one of an increasing number of breeds claiming to be "made in America." The powerful yet friendly dogs were created by musher Arthur Treadwell Walden, who started with some Greenland Husky sled dogs and a mastiff-type farm dog. Walden was put in charge of assembling the team of 16 Chinooks used to transport supplies for Admiral Richard Byrd's trek to Antarctica in 1927. Walden's original dog, named Chinook, was part of this illustrious team.
Following the expedition, Walden sold his kennel to Milt Seeley, Julia Lombard, and Perry and Honey Greene, but the breed's numbers began to dwindle. In 1965, the Guinness Book of World Records declared the Chinook the most rare breed of dog in the world. When Neil and Marra Wollpert tried to find a Chinook in 1981, they discovered that there were only 11 dogs left who could be bred, so they worked successfully to preserve the dogs and rebuild the population.
In an attempt to further save the breed, the Chinook Owners Association, in conjunction with the United Kennel Club, instituted a crossbreeding program. The intent was to add genetic diversity to the Chinook's gene pool. Today, Chinooks are still uncommon — only 638 were registered with the American Kennel Club's Foundation Stock Service in 2009. But the breed, which has been named the state dog of New Hampshire, appears to have a future.
One of the most wonderful traits of the Chinook is its gentle, even temperament, making it one of the easiest to own of all sled dog breeds. These calm and patient animals get along famously with children and other dogs. They are neither aggressive nor timid and, as working dogs, are programed to please their people. The Chinook does not make a good guard or watch dog. However, they do make wonderful dogs for high-energy families that have lots of time to spend with their pets. They will not thrive spending most of their time alone or apart from their family. Chinooks need constant companionship, either from other dogs or from their owners. A family that does not allow a dog in the house or rarely has time to train, exercise and socialize with their dog should consider a different breed. The Chinook has no trouble making friends but can be reserved at first with strangers or in unfamiliar surroundings.
For the most part, Chinooks are pretty healthy dogs. They are prone to certain afflictions such as Cataracts, Seizures and Hip Dysplasia. Skin allergies have also been known to occur within the breed.
The coat of a Chinook requires little grooming, but because of its thickness it does shed, so a daily brushing may help to keep the shedding manageable. It requires moderate exercise and is a good family pet.
Living Conditions
Chinooks adapt well to family life and prefer to accompany their "pack" on outings such as hiking or camping. They do not like to be left alone! Long periods of time without their family can lead to destructive behavior. Also, if left outside, they may attempt to dig under a fence. Although they are working dogs, Chinooks require little activity. They are happy to go along on long walks or hikes, but they are just as content to nap on the couch.
Chinooks are smart, versatile and highly trainable. However, they are strong-willed and can be a bit pushy. Almost every Chinook requires correction in order to avoid taking a dominant position in the household. This breed requires an owner with a firm but gentle hand to prevent personality and hierarchy controversies. Chinooks are high-spirited dogs that need consistent training and discipline in order to establish and maintain proper manners. Training sessions give a Chinook the opportunity to expend some of its excess energy and use its brain power for constructive purposes. Chinooks are very clever, but they are likely to resist authority in favor of their own desires. Training a Chinook requires not just five or six weeks; training needs to continue every day for the rest of the dog's life.
Every dog requires some form of exercise but the Chinook is a breed that craves it. He'll never run around the backyard catching and bringing back balls or Frisbees but he'll be a ready, willing and able jogging buddy or hiking companion. The Chinook will gladly stroll through the neighborhood with you on the other end of the leash or hop in the car for a trip to the pet store. With this being said, he will be thrilled to pull your kids' sleds through the snow in the winter and do so exuberantly. He'll even pull them around in their wagons in the summer. It's simply that he was not born to retrieve things and few Chinooks enjoy that tedious task.
After a good exercise session, he'll be quite happy to stretch out in the kitchen while you make dinner or curl up next to you on the couch and watch TV. The Chinook is a calm companion indoors provided he does have a workout every day.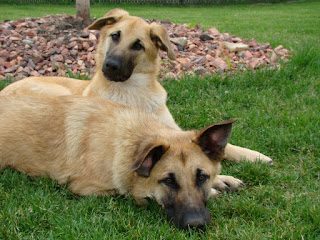 The Chinook has a thick,
easy-to-groom double coat
that sheds lightly every day. To remove dead hair and distribute skin oils, brush the coat once or twice a week. Baths are rarely necessary. Twice a year, the Chinook goes through a heavy shed, known as blowing coat. The process lasts for about three weeks, and you'll want to brush your Chinook more often during that time to keep the loose hair under control.
The rest is routine care: Chinook nails grow quickly, so trim them weekly. And brush his teeth frequently with a vet-approved pet toothpaste for good overall health and fresh breath.
A gentle and friendly Chinook can be a kid's best friend if they're brought up together. If your Chinook hasn't been socialized with kids, introduce the two slowly and calmly so the Chinook can become accustomed to the child at his own speed.
Regardless, always teach children how to approach and touch dogs, and always supervise any interactions between dogs and young children to prevent any ear biting or tail pulling on the part of either party.
Teach your child never to approach any dog while he's sleeping or eating or to try to take the dog's food away. No dog, no matter how good-natured, should ever be left unsupervised with a child.
Because he was created to be a sled dog, the Chinook is a good team worker and usually gets along with other animals, cats included, but early socialization to other pets is still important. Males who haven't been neutered may be aggressive toward other males, especially unneutered males.
Is this breed right for you?
Although bred as a working dog, the Chinook makes an excellent family pet with adults and children alike, although it is best that it is exposed to kids as a puppy. A calm and easy temperament, it is alert when needed and docile during rest periods. Tremendously loyal, the breed will follow its owner like a shadow and may experience separation anxiety. The Chinook will also need to be socialized early on and know that it is a dog and not a human. In addition, the breed requires very regular exercise and grooming.
In 1927, a team of 16 Chinooks accompanied Admiral Richard Byrd on his first expedition to Antarctica.
A dream day in the life
The Chinook will likely wake up in the bedroom of its owner. Following you diligently, the breed will likely be your shadow throughout the day. After a long and brisk run, it'll settle in for breakfast with you. It will continue its day of activity, running in and out of the house and playing with the other members of the family. After its very busy day, it'll snooze happily at your feet.