Everything about your Golden Retriever
August 19, 2014
9 minute read
  The Golden Retriever is one of the most popular dog breeds in the U.S. The breed's friendly, tolerant attitude makes him a fabulous family pet, and his intelligence makes him a highly capable working dog. Golden Retrievers excel at retrieving game for hunters, tracking, sniffing out drugs, and as therapy and assistance dogs. They're also natural athletes, and do well in dog sports such as agility and competitive obedience.
  This sporting breed has a sweet, gentle, people-pleasing personality. A well-bred Golden Retriever does not have strong guarding instincts, so don't expect him to protect your home from burglars. He will, however, make friends with them and show them where the treats are.


Overview
  It's no surprise that the Golden Retriever is one of the top ten most popular dogs in the U.S. It's all good with the Golden: he's highly intelligent, sociable, beautiful, and loyal.
He's also lively. The Golden is slow to mature and retains the silly, playful personality of a puppy until three to four years of age, which can be both delightful and annoying. Many keep their puppyish traits into old age.
  Originally bred for the physically demanding job of retrieving ducks and other fowl for hunters, the Golden needs daily exercise: a walk or jog, free time in the yard, a run at the beach or lake , or a game of fetch. And like other intelligent breeds who were bred to work, they need to have a job to do, such as retrieving the paper, waking up family members, or competing in dog sports. A tired Golden is a well-behaved Golden.
  As well as giving your Golden Retriever physical and mental exercise, you should also be prepared to include him in your family activities. The Golden Retriever is a family dog, and he needs to be with his "pack." Don't consider getting a Golden unless you're willing to have him in the house with you, underfoot, every day.
  There's one other potential drawback to the breed: He's definitely not a watchdog. He might bark when strangers come around, but don't count on it. Most likely, he'll wag his tail and flash that characteristic Golden smile.

Highlights
Golden Retrievers shed profusely, especially in the spring and fall. Daily brushing will get some of the loose hair out of the coat, keeping it from settling on your clothing and all over your house. But if you live with a Golden, you'll have to get used to dog hair.
Golden Retrievers are family dogs; they need to live indoors with their human "pack," and shouldn't spend hours alone in the backyard.
Golden Retrievers are active dogs who need 40-60 minutes of hard exercise daily. They thrive on obedience training, agility classes, and other canine activities, which are a great way to give your dog physical and mental exercise.
Although they're gentle and trustworthy with kids, Golden Retrievers are boisterous, large dogs that can accidentally knock over a small child.
Goldens love to eat, and will quickly become overweight if overfed. Limit treats, measure out your dog's daily kibble, and feed him in regular meals rather than leaving food out all the time.
Because the Golden Retriever is so popular, there are many people breeding Goldens who care more about making money out of the demand for puppies than in breeding happy, healthy dogs. To get a healthy dog, never buy a puppy from an irresponsible breeder, puppy mill, or pet store. Look for a reputable breeder who tests her breeding dogs to make sure they're free of genetic diseases that they might pass onto the puppies, and that they have sound temperaments.
Other Quick Facts
The Golden has a dense, water-repellent double coat that comes in various shades of gold. Goldens shed heavily and require frequent brushing to keep the fur from flying.
Goldens typically have litters of six to eight puppies. Most breeders like to keep puppies until they are at least eight weeks old. This gives the puppies time to learn how to behave toward other dogs and gives the breeder time to evaluate the puppies' personalities so she can place each one in just the right home. A bonus is that puppies of this age are more mature and more easily housetrained.
UKC group: Gun Dog
Average lifespan: 10-12 years
Average size: 55-75 pounds
Coat appearance: Long, dense, firm
Coloration: Any shade of golden
Hypoallergenic: No
Other identifiers: Luxurious golden coat, sturdy and well-balanced body frame.
Possible alterations: Cream or red coloration not accepted by AKC.
  The Golden is one of the breeds created during the dog-loving Victorian era. The breeds in his background probably included a yellow retriever, the Tweed Water Spaniel, wavy- and flag-coated retrievers and a red setter.
  Dudley Marjoribanks, Lord Tweedmouth, is generally credited with producing the first dogs that were to become known as Golden Retrievers, but recent research into studbooks, old paintings and other sources suggests that dogs similar to the Golden Retriever, possibly a type of setter, existed before Lord Tweedmouth began breeding them at his Scottish estate, Guisachan. England's Kennel Club classified the dogs as "Retriever — Yellow or Golden" in 1911, then changed the name to "Retriever — Golden" in 1920.
 Golden Retrievers were first registered with the American Kennel Club in 1925 and were officially recognized as a breed in 1932. Since then they have established themselves as versatile companions, hunting dogs and working dogs. Goldens are found doing search and rescue, animal-assisted therapy, arson detection, drug detection and assistance work for people with disabilities. Their energy, enthusiasm and intelligence make them well suited to learning and performing almost any task.
  Today, Goldens are among the most beloved of breeds and rank fifth among the breeds registered by the AKC.
Temperament and Personality
  Ask anyone about the defining characteristic of the Golden Retriever, and the answer you will always get is temperament. The hallmark of the Golden is his kind, gentle, eager-to-please nature. He craves affection and will seek it from strangers as well as his own family.
Goldens are adaptable and people-oriented, and those characteristics are at the top of the list of reasons people love them. Unfortunately, the breed's popularity has meant that careless or clueless people have begun churning out Goldens without any attempt to maintain their sweet, gentle disposition. Shyness and aggression can be problems, leading to fear biting or unfriendliness toward people and other dogs.
  Proper Goldens love everyone, but that love for people will often translate into jumping as a form of greeting. Basic, early obedience training is a must for these big, rambunctious dogs. Fortunately, Goldens are very easy to train, and a small investment of time when the dog is young will pay off when he's full-grown. He will readily sit on command, walk on a leash without pulling and come when called.
  If not trained, socialized and exercised daily, the good-natured exuberance of Goldens – especially as adolescents and young adults – can be overwhelming, and even frightening to small children, despite the dog's best intentions to be friendly. Choose a Golden as a family dog only if you are prepared to supervise kids and dog when they are together and make sure everyone plays nicely. It's normal for puppies to chase and bite in play, so you need to teach a Golden pup how to act around kids, as well as teach the kids how to play properly with the dog.
  Any dog, even a Golden, can develop obnoxious levels of barking, digging, food stealing and other undesirable behaviors if he is bored, untrained or unsupervised. And any dog can be a trial to live with during adolescence. In the case of the Golden, the "teen" years can start at six months and continue until the dog is two or three years old. Start training early, be patient and be consistent, and one day you will wake up to find that you live with a great dog.
  The perfect Golden Retriever is a product of his environment and breeding. Whether you want a Golden as a companion, show dog, canine competition dog or all three in one, look for one whose parents have nice personalities and who has been well socialized from early puppyhood.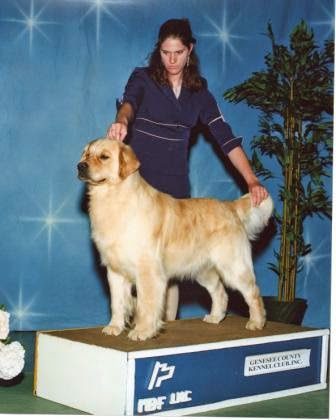 The Golden Retriever has a lifespan of between 10 and 13 years. Some of its minor health problems include hypothyroidism, sub-aortic stenosis (SAS), eye disorders, elbow dysplasia, mast cell tumors, and seizures. Osteosarcoma is also occasionally seen in Golden Retrievers. Other major health concerns for the breed include lymphoma, canine hip dysplasia (CHD), hemangiosarcoma, and skin problems. To identify these conditions early, a veterinarian may recommend heart, hip, thyroid, eye, or elbow tests during routine checkups.
  This breed will do okay in an apartment if sufficiently exercised. They are moderately active indoors and will do best with at least a medium to large yard.
  The Golden Retriever needs to be taken on a daily, brisk, long walk, jog or run alongside you when you bicycle, where the dog is made to heel beside or behind the person holding the lead, as instinct tells a dog that the leader leads the way and that leader needs to be the human. In addition, they like to retrieve balls and other toys. Be sure to exercise this dog well to avoid hyperactivity.
  To encourage turnover over of the coat and minimize buildup of hair inside the house, it is best to routinely brush a Golden Retriever's coat at least twice a week. And though it is capable of living outdoors, the Retriever is at its best when kept indoors with the family. In addition, it is important for the Retriever to maintain a daily exercise routine, or take part in active games, so that it can spend its natural energy and relax comfortably  during "non-playing" hours.
  It takes some dedication to live with a Golden Retriever. The Golden's profuse coat requires regular brushing and bathing to remove debris and mats. And while all dogs shed, Goldens do it with the same enthusiasm they bring to swimming and retrieving. You can keep it under control with daily brushing to remove the dead undercoat, but if shedding is a deal-breaker at your house, this is not the breed for you.
  Like most retrievers, Goldens love water. When your Golden gets wet – and he will – give him a thorough freshwater rinse to remove chlorine, salt or lake muck from his fur, all of which can be drying or otherwise damaging to the coat. Keep his ears dry to prevent infections, and use an ear cleaner recommended by your veterinarian after he goes swimming.
  The rest is basic care. Trim his nails as needed, usually every few weeks, and brush his teeth for good overall health and fresh breath.
Is this breed right for you?
  Goldens can adapt to just about every lifestyle and environment; however, they're best suited for families with children and large living spaces with room to roam. They can do well in small apartments if daily exercise is incorporated into their routine. Owners must dedicate time for regular grooming to prevent knots in their long golden coat. Goldens are eager to please their human counterparts and therefore excel at training since they love the bond it creates for their master-canine relationship. Families with young children are encouraged to enroll their Golden into basic obedience courses early on.
  The amiable Golden Retriever isn't bothered by the noise and commotion of kids — in fact, he thrives on it. He's a large, strong dog, though, and he can easily knock over a small child by mistake.
  As with every breed, you should always teach children how to approach and touch dogs, and always supervise any interactions between dogs and young children to prevent any biting or ear or tail pulling on the part of either party. Teach your child never to approach any dog while he's eating or sleeping or to try to take the dog's food away. No dog, no matter how friendly, should ever be left unsupervised with a child.
  The Golden's attitude toward other pets is the more the merrier. He enjoys the companionship of other dogs, and with proper introductions and training, can be trusted with cats, rabbits, and other animals.
  Liberty, the presidential pet of President Gerald R. Ford,and Victory, the presidential pet of Ronald Reagan, were Golden Retrievers. 
  The breed has also featured in a number of films and TV series, including: Air Bud and Air Bud: Golden Receiver, Full House, Homeward Bound: The Incredible Journey and Homeward Bound II: Lost in San Francisco, Fluke, Napoleon, Up, Pushing Daisies, The Drew Carey Show, and Cats & Dogs. Cash from The Fox and the Hound 2 was also a mix of this breed, as was Whopper from Pound Puppies.
A dream day in the life of a Golden Retriever
  A day at the lake or pond playing fetch would be a dream day in the making for this water-loving breed. Hanging out at the park with the whole family and even making a few new neighbor friends keep this pooch's tail wagging. For an extra-special day, going for a brisk run or walk on a cool day will keep a smile on this naturally happy breed.