Everything about your Rat Terrier
June 26, 2018
7 minute read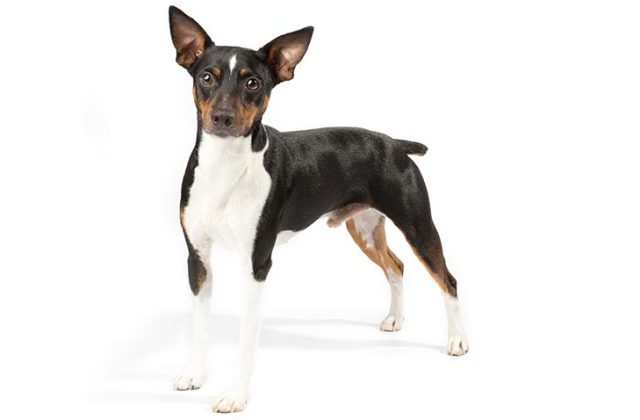 Rat Terriers are extraordinary pets. While it is interesting to learn about the breeding purpose of Rat Terriers, their genetics actually influence health, outward appearance and behavior. Some behaviors make the Rat Terrier and some can be quite irritating! Understanding her unique needs will help you keep her healthy and will create a stronger bond between the two of you.

Overview
The Rat Terrier, also known as the American Rat Terrier, the Decker Giant, the Squirrel Terrier and the Feist, was developed in England to control vermin. Rat Terriers became so adept at killing rats both above and below ground that breed enthusiasts in England entered them in rat-baiting contests, where bets were wagered on how many rats a particular dog could kill. One Rat Terrier reportedly killed 2,501 rats in a seven-hour period. Today's Rat Terriers retain their strong hunting instinct and also make terrific family companions.

Highlights
Lots of visitors to your home? Though devoted to his family, the Rat Terrier takes time to warm up to strangers.
A propensity for digging combined with a high prey drive means your Rat Terrier will leap over — or dig under — any fence he can.
A Rat Terrier has lots of energy; you should be able to spend at least 40 minutes a day exercising your dog. If you do not, the Rat Terrier can become destructive as a way to release pent up energy.
They need plenty of mental stimulation too. A bored Rat Terrier will resort to barking and chewing if he doesn't receive it.
The Rat Terrier's compulsion to chase doesn't make him the best choice for an off-leash dog. Even the most well-behaved are likely to "forget" their training in the face of tantalizing prey.
History
One of the breeds that can proudly claim to be made in the USA, the Rat Terrier was bred to be an all-purpose farm dog whose job it was to kill rats and other vermin and hunt small game. In the early 20th century, this was one of the dogs you were most likely to see on a farm.
Like so many Americans, the Rat Terrier has a highly diverse background. His ancestors include Fox Terriers and various other types of terriers, Beagles, Whippets, Italian Greyhounds, and dogs known as feists. The Whippet and Italian Greyhound blood added speed, while the Beagle brought in scenting ability and a pack mentality. The result was a dog with speed, versatility, "nose," and a great disposition. President Theodore Roosevelt was a fan of Rat Terriers, and they were among the many pets he and his family brought to the White House.
For many years, Rat Terriers were simply farm dogs and pets. They faded in popularity as more people moved to cities and fewer lived in rural areas. Fortunately, they weren't completely forgotten and in 1999 the United Kennel Club recognized Rat Terriers as a distinct breed. In the American Kennel Club, the Rat Terrier belongs to the Miscellaneous Class, the final step before AKC recognition.


Personality
Intelligent, wary, and stubborn, this breed is a dynamo. Understand their general dislike of strangers and know that most warm up to visitors (although chances of that happening are slimmer if you're not there). If they're not properly socialized they will be fine with their family but they could become aggressive to strangers and other animals. They are also absolutely fearless, which can be a wonderful trait, though not if they are aggressive.
A good family pet, Rat Terriers are amazingly perceptive and intuitively respond to your moods. They have a great desire to please, love praise, and will follow you around the house. Bred to work all day on the farm, these guys need a lot of exercise and if they don't get it, their sharp little minds can turn devious to amuse themselves. Their people live with the mantra that a tired dog is a good dog. As with every dog, the Rat Terrier needs early socialization — exposure to many different people, sights, sounds, and experiences — when they're young.
Socialization helps ensure that your Rat Terrier puppy grows up to be a well-rounded dog. Enrolling him in a puppy kindergarten class is a great start. Inviting visitors over regularly, and taking him to busy parks, stores that allow dogs, and on leisurely strolls to meet neighbors will also help him polish his social skills.

Health
This is an extremely long-lived and healthy breed, with an average life span of 13 to 16 years. Breed health concerns may include food and contact allergies, elbow and hip dysplasia, malocclusion (bad bites), demodicosis (demodectic mange) and patellar luxation.

Care
The Rat Terrier requires a good amount of daily outdoor exercise such as a long walk or jog. It will do fine as an apartment dog so long as it is provided with an adequate amount of exercise. The Rat Terrier sheds lightly and requires occasional brushing.

Living Conditions
Rat Terriers will do okay in an apartment so long as they get at least 20-30 minutes of exercise a day. They are fairly active indoors and should have at least a small to medium-sized yard. Rat Terriers love to dig, and they can get out of a fenced yard relatively easily. Provided they have the proper protection, they are able to spend a good amount of time outdoors. They love to be inside the house and outside to play.

Training
The Rat Terrier is quite intelligent, but is also stubborn. They aren't eager to please you – they're in it for their own fun! That's why you should either have some experience training dogs or be prepared to enlist the services of a professional. A good way to get the upper hand when it comes to training is to start early. Keep training sessions short and interesting in order to keep your dog focused.
After you've conquered the basics, your Rat Terrier will be ready to take training to the next level. This breed excels at agility training and Earthdog activities. Anything you can do to keep these dogs occupied is helpful, as it keeps both their minds and bodies active and engaged.

Exercise
Don't let its size fool you – the Rat Terrier as plenty of energy to spare. It needs at least 40 minutes of exercise a day in order to keep healthy and happy. If you live on a farm, this breed will go to work keeping the rodent population in check. If not, take your Rat Terrier for walks a few times a day, or take him to the dog park to work off all that excess energy. And there's nothing that the Rat Terrier likes more than to play catch for hours on end.
Because of its small size, this breed can live in an apartment, but you have to be committed to making sure they get outside for daily exercise. Once they get tuckered out, your Rat Terrier will happily curl up on the couch by your feet.

Grooming
Rat Terriers have short, easy-care coats. Brush them weekly or more often with a soft bristle brush or rubber curry brush. The more often you brush, the less loose hair you'll have floating around your house. Rat Terriers shed moderately year-round and they have a heavier shedding season in the spring and fall. An occasional bath is all he needs to stay clean.
Be sure you don't trim your Rattie's whiskers, and don't let a groomer do so. Whiskers are an important tactile aid for the Rattie.
The rest is basic care. Trim the nails as needed, usually every week or two. Small dogs are prone to periodontal disease so brush the teeth frequently for good overall health and fresh breath.
Children And Other Pets
Although Rats who aren't used to children should be supervised, most Rats are wonderfully patient with kids, even kids who aren't part of the family. They are extremely fond of their family kids. Parents who don't like the idea of the family dog sleeping under the covers with the kids might be in for trouble.
As with every breed, you should always teach children how to approach and touch dogs, and always supervise any interactions between dogs and young children to prevent any biting or ear or tail pulling on the part of either party. Teach your child never to approach any dog while he's eating or sleeping or to try to take the dog's food away. No dog, no matter how friendly, should ever be left unsupervised with a child. Although there may be a few disagreements regarding food and sleeping arrangements, the Rat Terrier likes other dogs.
He doesn't spar with them and generally is not aggressive towards them. As a matter of fact, many Rats want to play with other dogs, so you need to be on your lookout for dog-reactive or aggressive dogs. Once an aggressive dog provokes a fight, these terriers return the emotion. Unfortunately, they are size-blind and don't care if the aggressor outweighs them five times over. Rats are prey-driven so any small, quick moving animal, including a hamster, mouse, chinchilla, and of course, a rat, is seen as prey, and may be chased. If a Rat is raised with a cat, bird, chicken, or other animal in a household, they will generally get along as family members.

Is the Rat Terrier the Right Dog for You?
If you are looking for an active, energetic, family-friendly dog, the rat terrier should be one of your considerations. Exercise needs are high, but grooming and health problems are substantially lower than with other breeds. If you have small animals or rodents, you will need to take extreme care around a rat terrier because of their high prey drive. If it sounds like these requirements are what you are looking for, the rat terrier might be a good fit for your household.

Did You Know?
One of the breeds that can proudly claim to be made in the USA, the Rat Terrier was bred to be an all-purpose farm dog whose job it was to kill rats and other vermin and hunt small game.